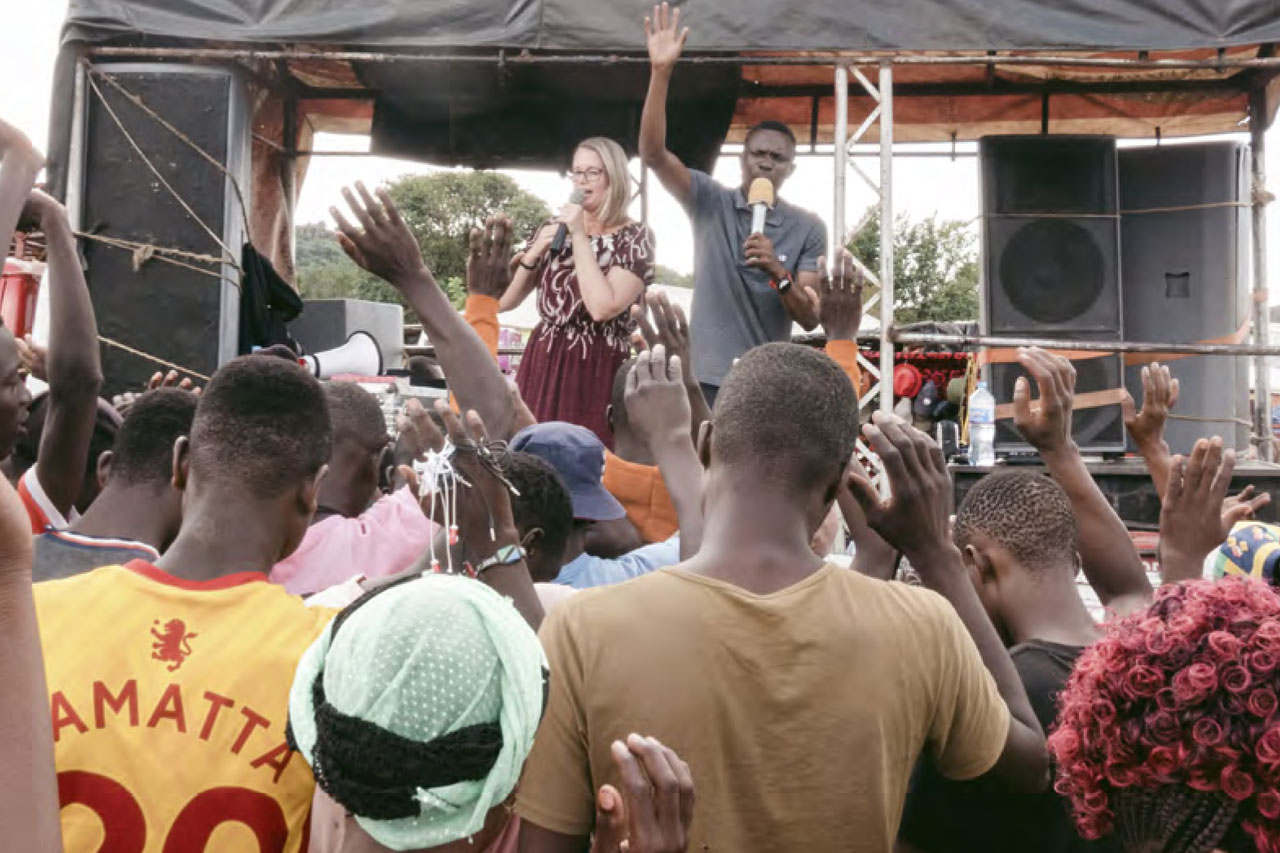 Have you seen CfaN's Gospel Trucks in action? These versatile vehicles have become an integral part of our Decade of Double Harvest strategy.
Using these "multi-tools" over the past couple years have already resulted in hundreds of thousands of salvations in Africa, with more added every month!
So exactly what IS a Gospel Truck?
Gospel Trucks are full-customized mobile rigs that serve as both transport and stage for evangelists. They're equipped with everything needed to turn almost anywhere into an instant crusade venue—sound systems and lights, a generator and storage space for follow-up materials. There's no supplier for these trucks, no possible way to order them ready-made.
Our technical logistics director, Winfried Wentland, starts by sourcing a suitable truck that can handle the punishing African road conditions and weather. Then our team spends many hours carefully customizing the vehicle.
They must find innovative and safe ways to install everything from the generator to the sound and lighting equipment, keeping things as simple and hardy as possible. It's no easy task!
With one of these vehicles, small teams of two or three evangelists can conduct outreaches anywhere the truck can go. And because they're so mobile, teams often conduct as many as 9 outreaches in a single day!
From village markets to suburban street intersections, Gospel Trucks provide a platform for preaching the Gospel where the people are, rather than waiting for them to come to a venue. And it's proving to be incredibly effective.
Right now, CfaN already has three trucks in West Africa (two in Nigeria and one in Ghana), as well as two on the ground in East Africa.
They serve multiple roles.
Besides moving from place to place, they're also being used for weeklong mini-crusades and school ministry, and they provide advertising space for upcoming major crusades.
And they're a vital part of training our Evangelism Bootcamp students, giving them the opportunity to organize and conduct their own outreaches.
It's valuable real-world experience at an eye-popping pace. Using the Gospel Trucks, students doing their Initiation Trip (the practical training final phase of Bootcamp) each conducts more outreaches in a week than most evangelists will experience in many months or even years.
Combining the Bootcamp Initiation teams of evangelists with the Gospel Trucks has given Flagship Crusades a whole new lead-up phase.
Heading out in twos and threes, Bootcamp students hold an astonishing number of small campaigns in the weeks before the main event.
While this helps spread the word and build anticipation for the big event, it also results in hundreds of thousands of salvations before the Flagship Campaign has even started!
Without doubt, this effective strategy is set to grow hugely, with plans for many more Gospel Trucks in the pipeline.
Winfried Wentland